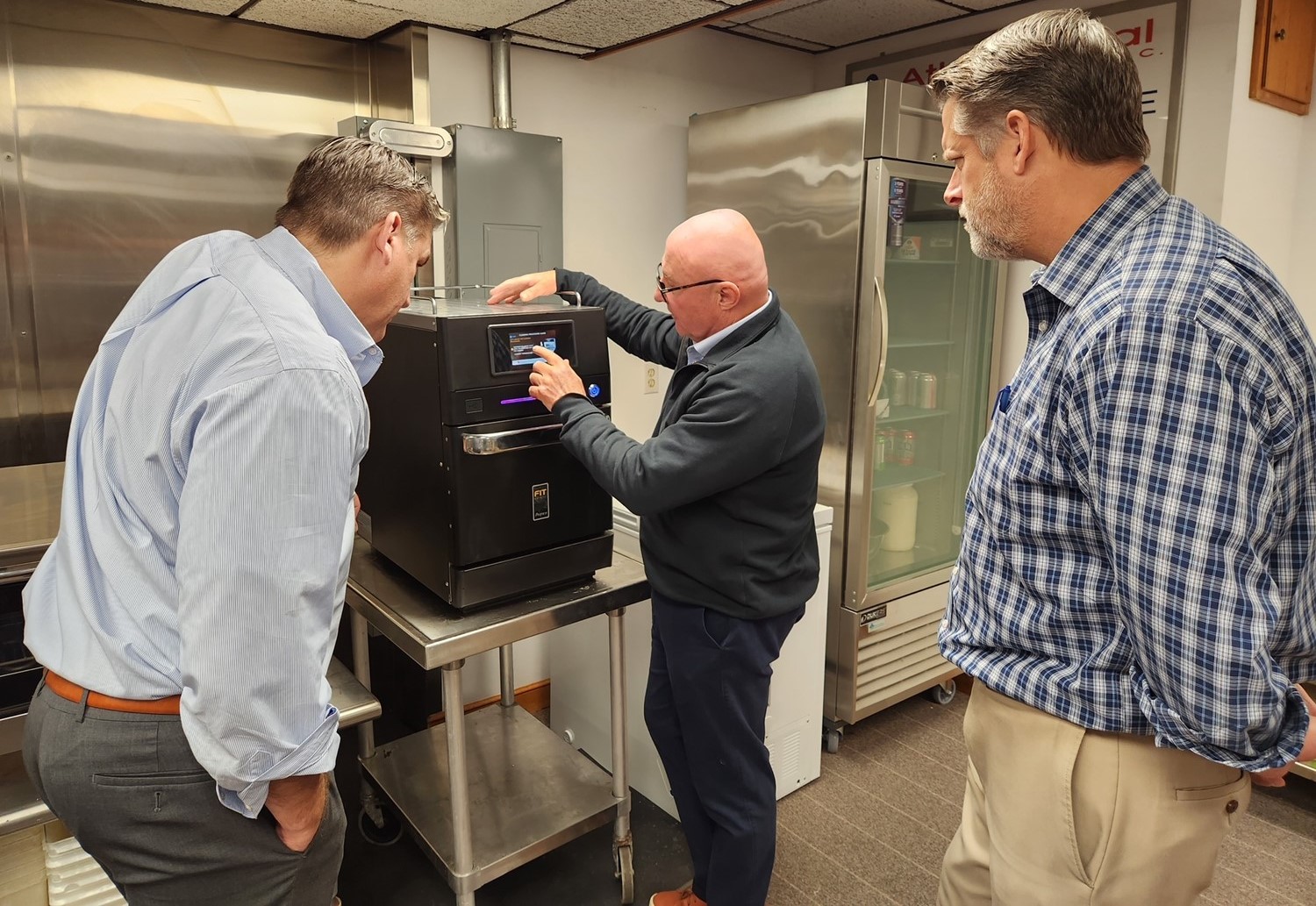 Our Regional Sales Manager, Peter Carroll, recently conducted an extensive training session with Mark Butkevich and Brian Butkevich, the principals of Butkevich Associates. With their extensive background, robust network, and exceptional team, Butkevich Associates is all set to lead Prática's sales expansion in the vibrant Region 1 of MAFSI.
"Butkevich Associates proudly partners with manufacturers such as Pratica to provide a variety of solutions to meet the needs of dealers, consultants, designers, and end-users in the food service industry. They serve a wide range of clients, including restaurants, cafes, bakeries, schools, colleges, universities, supermarkets, healthcare facilities, theme parks, sports venues, corporate cafeterias, military bases, convenience stores, and other locations that prepare and/or serve food. With over 45 years in the business, Butkevich Associates has built their success by providing top-quality food service equipment, with personalized advice, and training to help their customers maximize productivity and profits through the knowledge, experience, relationships, and dedication to personalized service that is necessary to help their partners achieve success."
Brian and Mark, Butkevich Associates Principals
This collaboration goes beyond training—Peter Carroll is actively working alongside Mark and Brian, showcasing the remarkable features and benefits of our high-speed ovens. Their combined efforts aim to not only drive immediate sales but also build lasting relationships by highlighting how our products bring operational efficiency, cost savings, and overall success to our clients.
With Butkevich Associates on board, we're confident that their passion, expertise, and established connections will play a key role in our mutual success.
Here's to a fantastic partnership and the exciting journey ahead! 🚀
Find out what Prática's high-speed ovens can do for your business, contact them at [email protected] (508) 584-1818
MAFSI Region 1: New England
Connecticut, Maine, Massachusetts, New Hampshire, Rhode Island, Vermont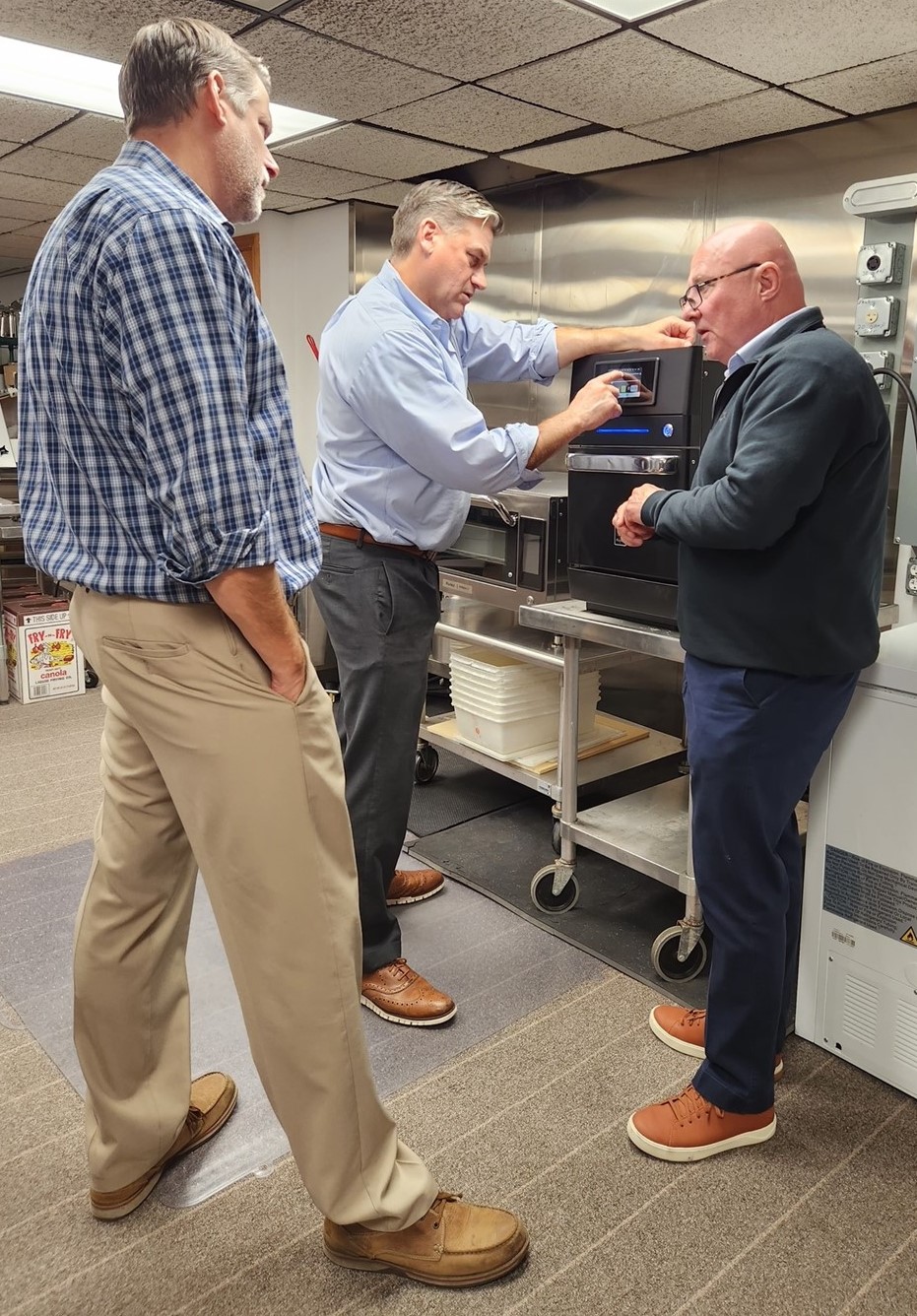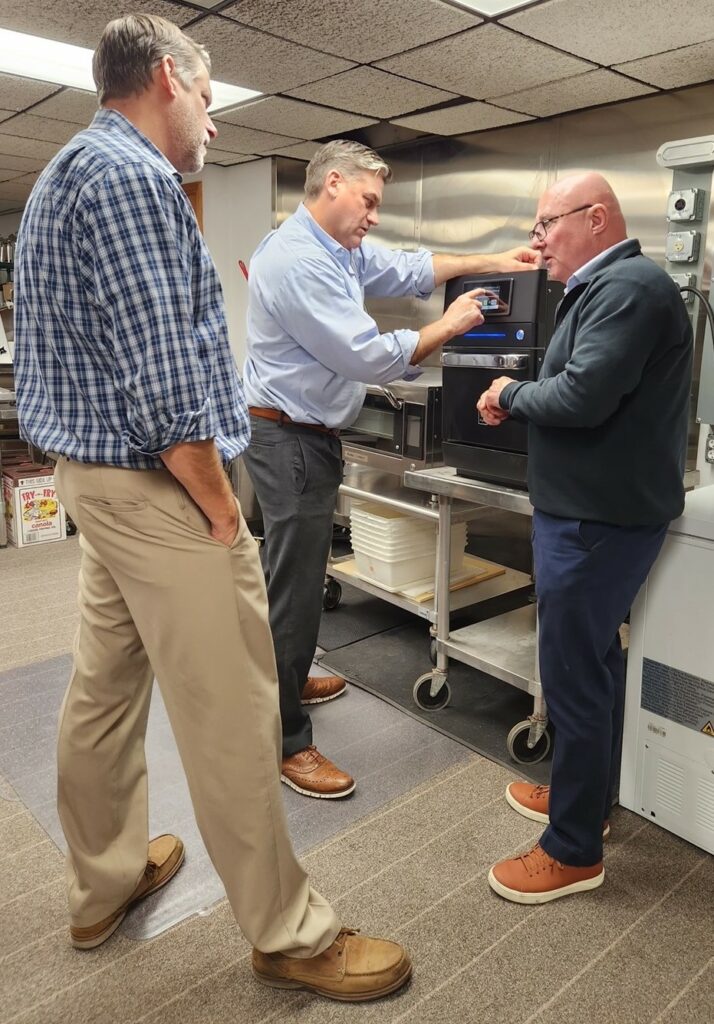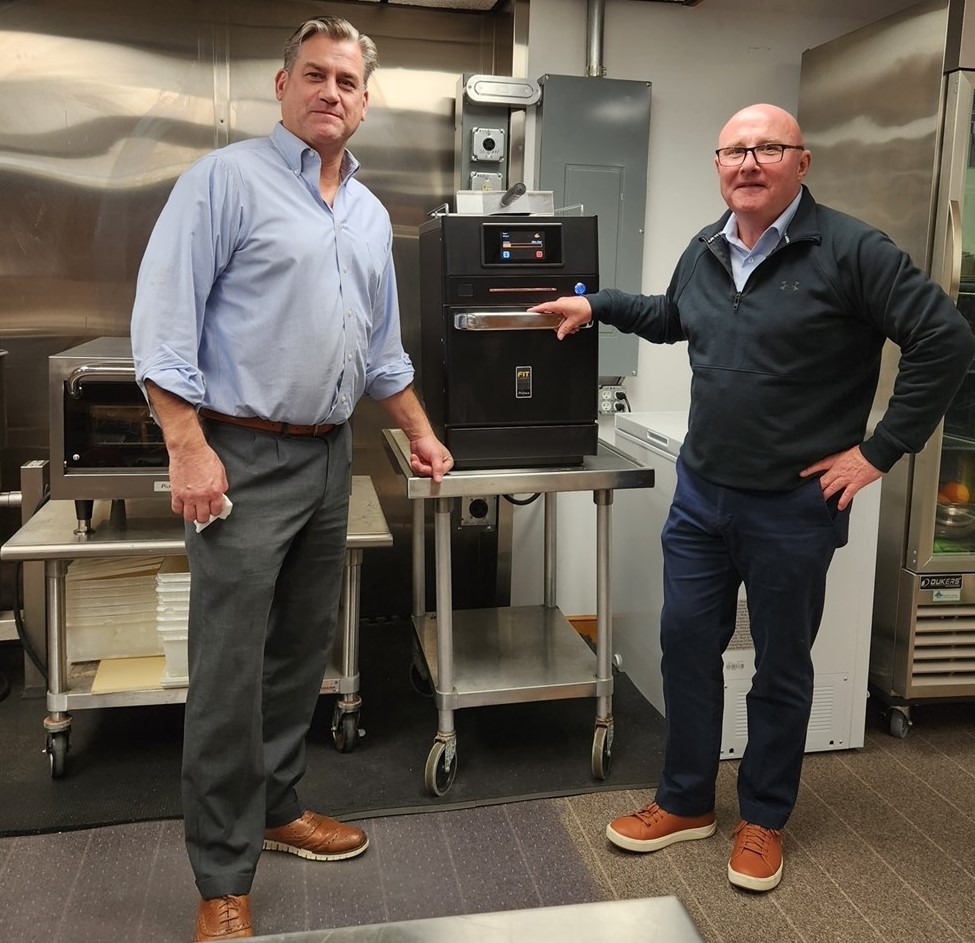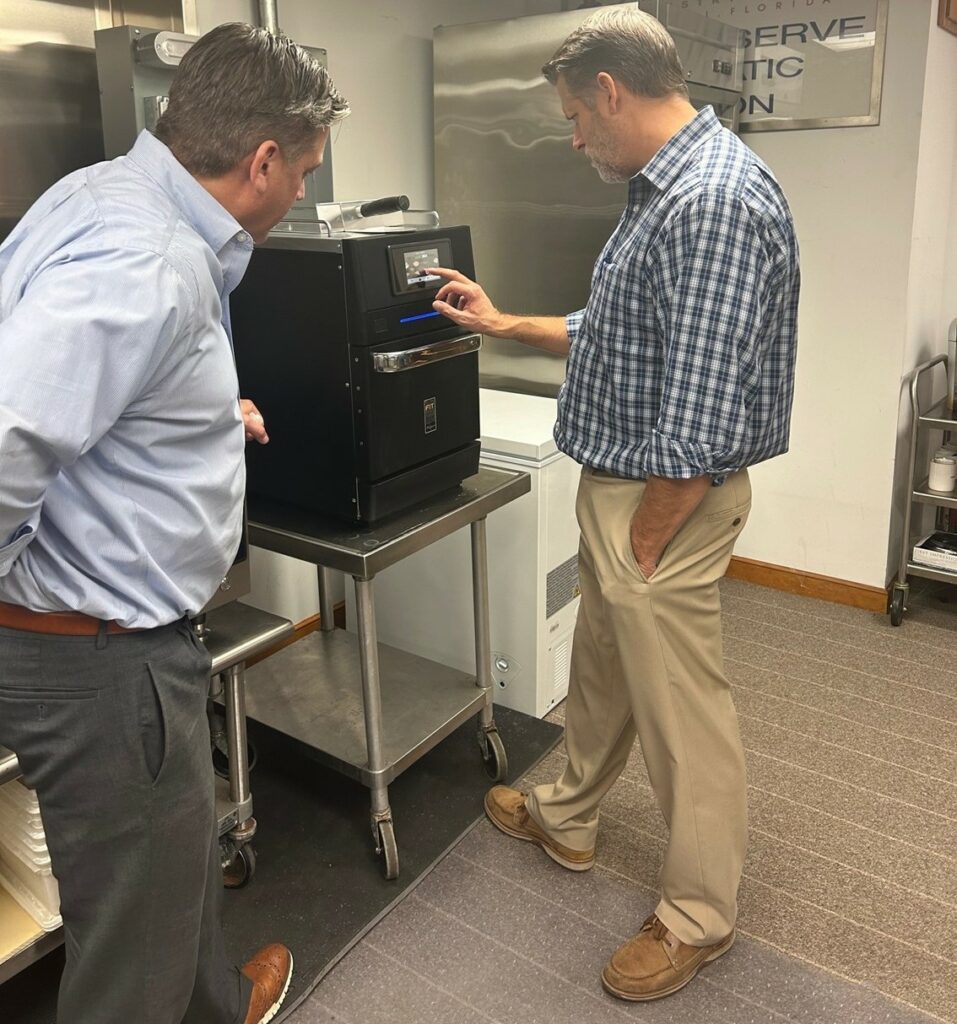 Schedule a demo session and test your products. Get in touch with us today and let's embark on a culinary adventure that'll leave your customers craving more. It's time to take your establishment to the next level – we've got your back! E-mail [email protected] or phone +1 214-584-6269
Contact the sales representative in our region
If you are not located in New England and want to find out more information about our high-speed ovens, use our Sales Locator map to find the one close to you: https://praticausa.com/sales-locator/
A Wide Range of Menu Options in No Time
Say goodbye to long waits and hello to super-fast cooking. Our ovens are lightning quick, giving you the power to serve up a wide range of menu options in no time. From sizzling sandwiches and artisanal pizzas to heavenly pastries and mouthwatering meals, our ovens work their magic, leaving your guests amazed and totally satisfied.
Consistency: The Key to Memorable Dining Experiences
Consistency is the secret ingredient to a memorable dining experience, and our high-speed ovens have it down to a science. They use advanced cooking technologies to ensure your dishes turn out perfectly every single time. No more hit or miss – just incredible taste and texture that'll have your guests coming back for more.
We get it – you want to get things done efficiently without compromising on quality. Our high-speed ovens make it happen. They're like superheroes in your kitchen, helping your chefs and kitchen staff handle high volumes of orders like champs. Faster service, higher productivity, and a happy team – it's a win-win.
Energy Efficiency: Sustainable Cooking without Compromise
Saving energy and saving the planet go hand in hand. Our high-speed ovens are designed to be energy-efficient, so you can do your bit while saving on costs. They heat up in a flash and use power smartly, so you can focus on serving up tasty dishes with a side of sustainability.
Compact Design for Space-Conscious Establishments​
Don't sweat the space. Our high-speed ovens are compact yet mighty, fitting into your business with ease. Expand your culinary horizons and get creative without worrying about space limitations.
No hoods needed for operation!
All of Prática's High-Speed Ovens are Ventless.
The removable catalytic converter turns grease-laden vapor into water, allowing the oven to operate with no need for exhaust hoods.
Since the catalytic converter is removable, it allows operators to perform the cleaning without the need for a maintenance service call.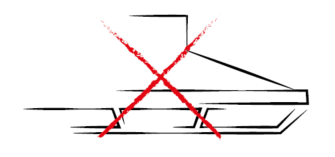 With a friendly touchscreen interface, Prática speed ovens have easy operation and quick preparations and are ideal for service with agility and quality.
Perfect for: Pizzas, Flatbreads, Cookies, and more.
Sources of heat: impinged air (high-speed air blast), and infrared radiation.
The options available are: single and double. The double is a stacked version of the single one, each chamber operates individually.
Learn more about the FORZA STi High-speed commercial oven here.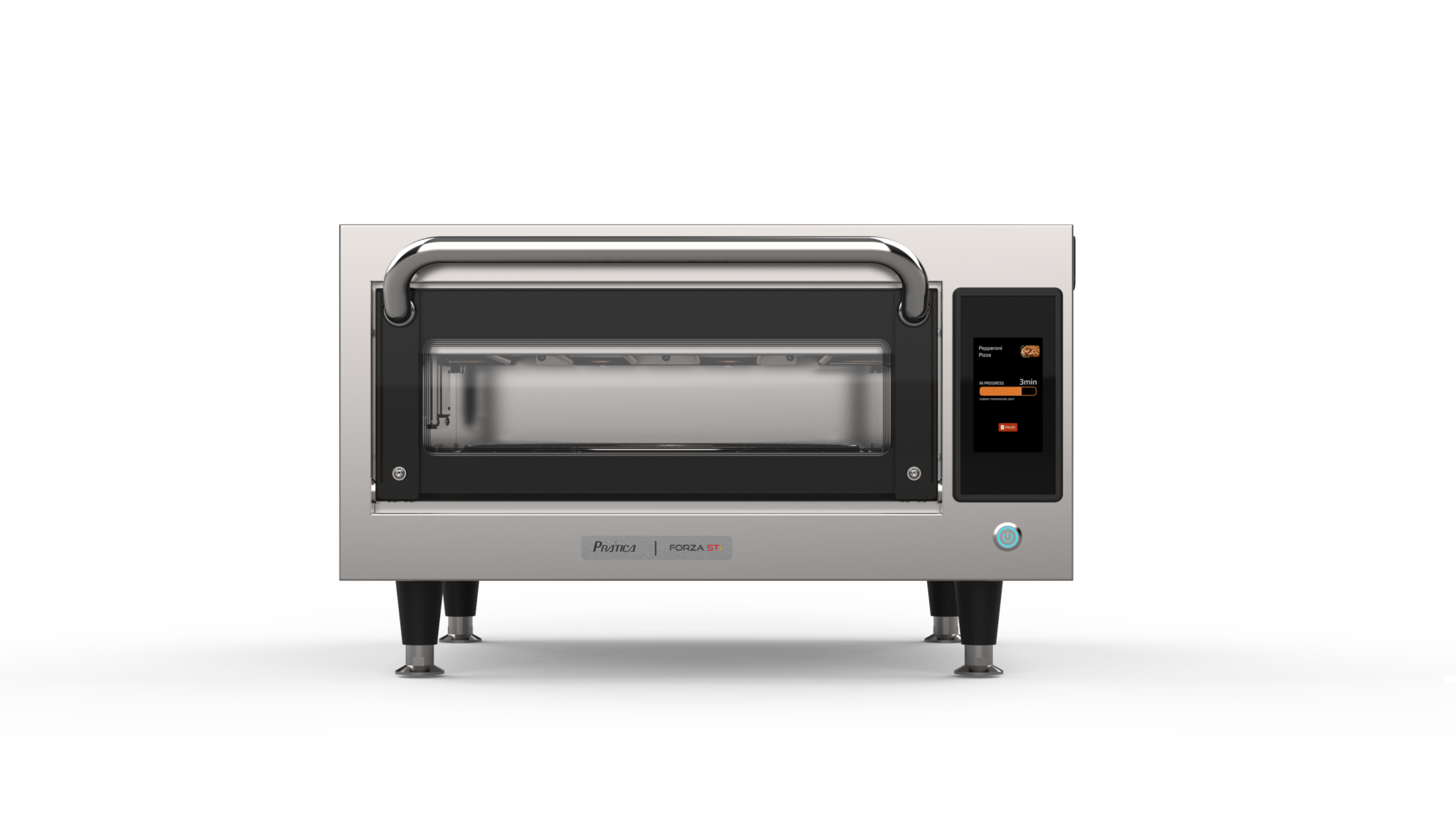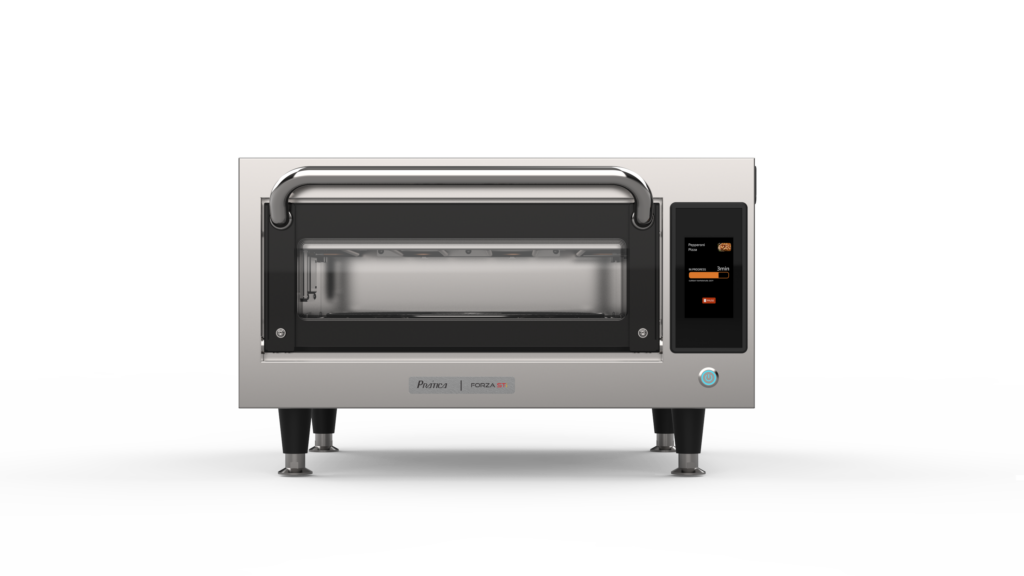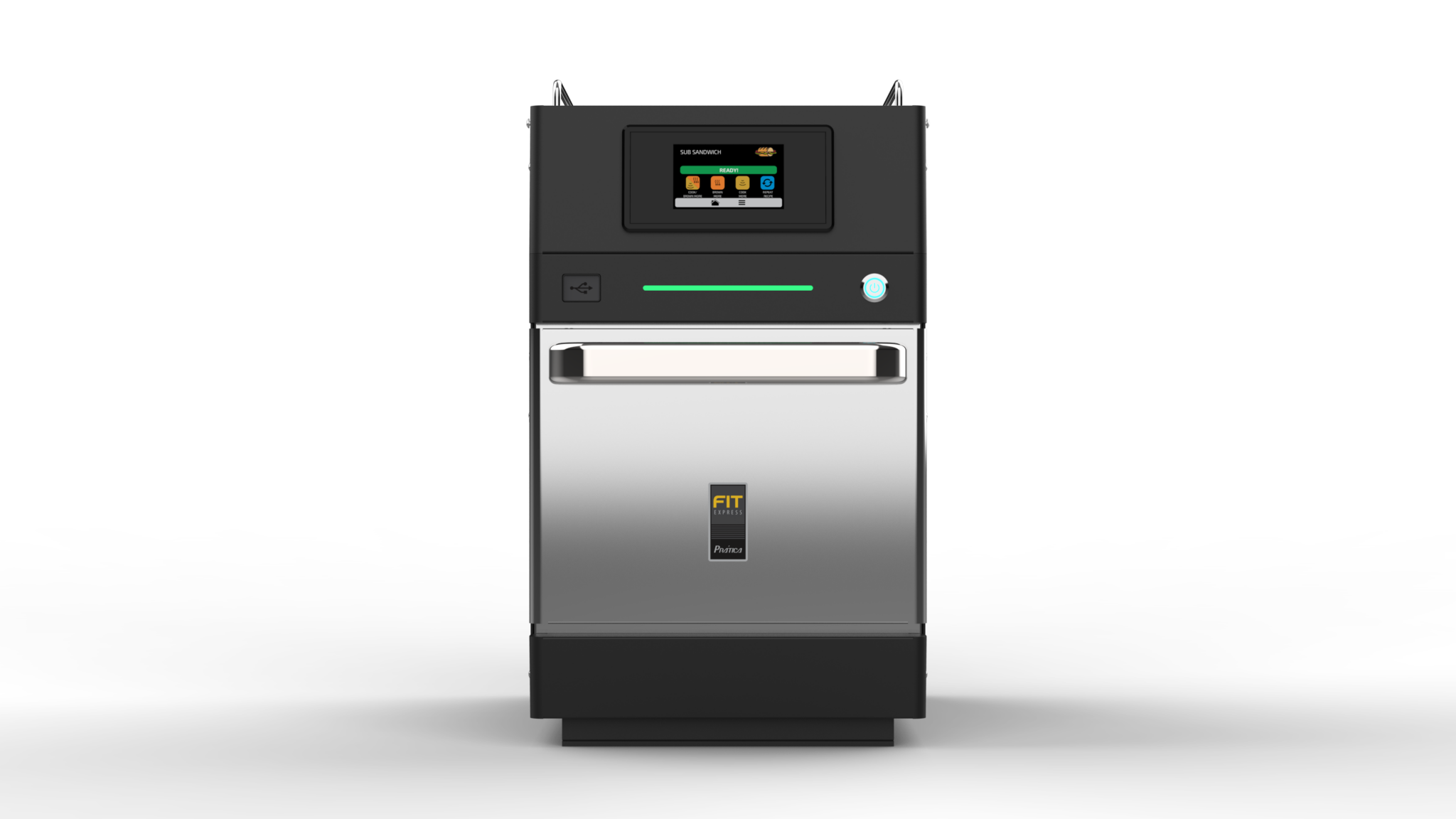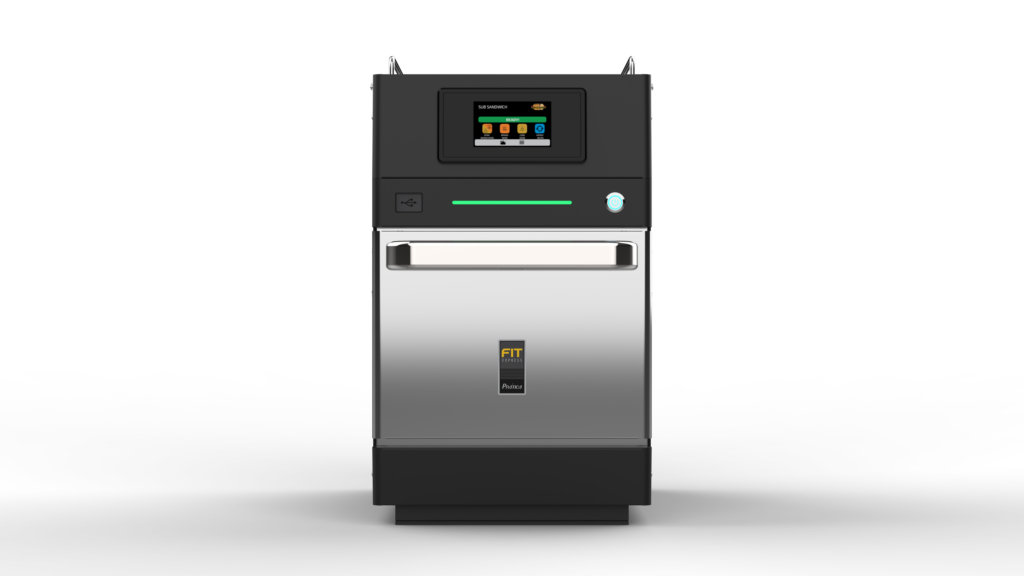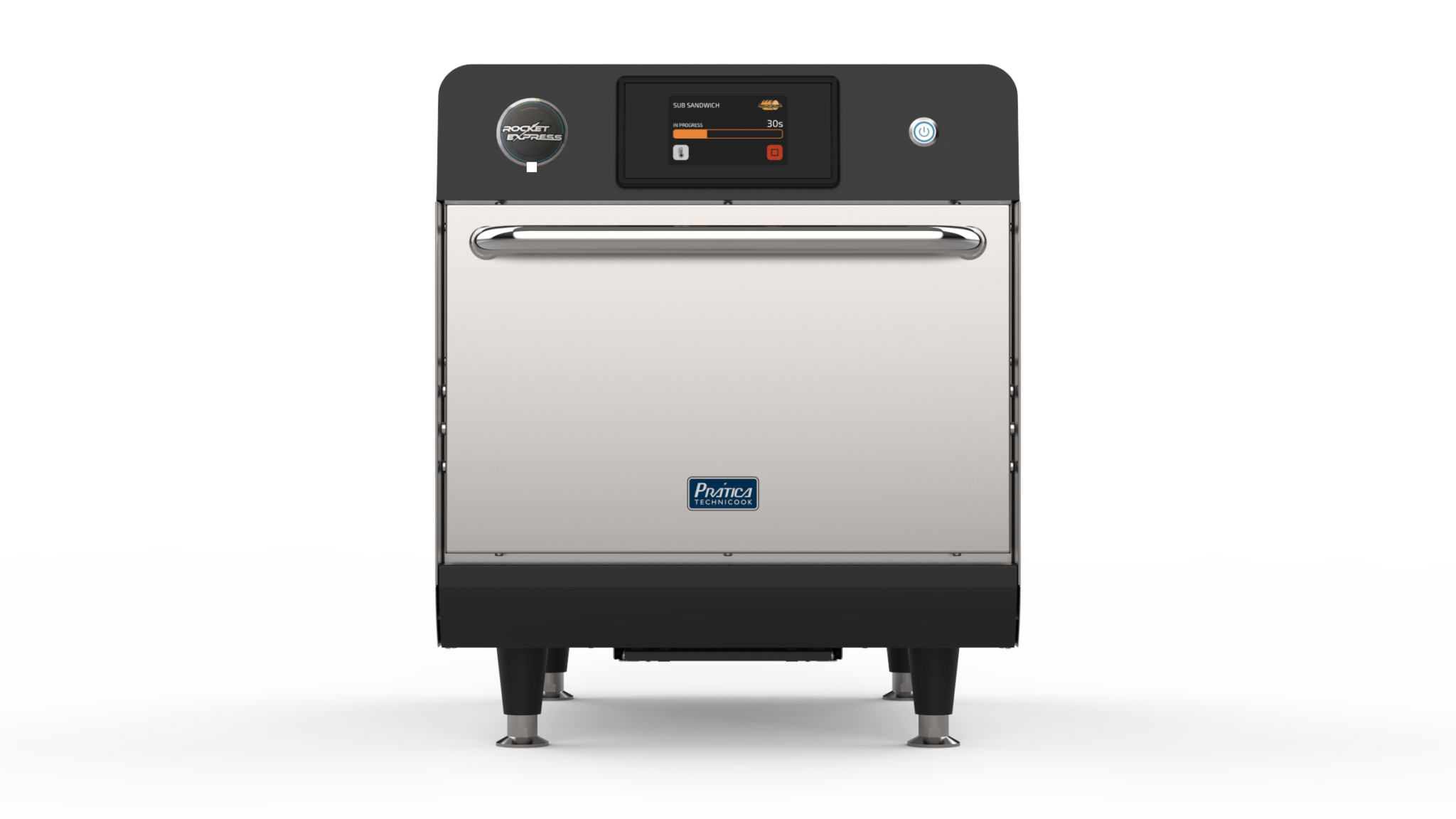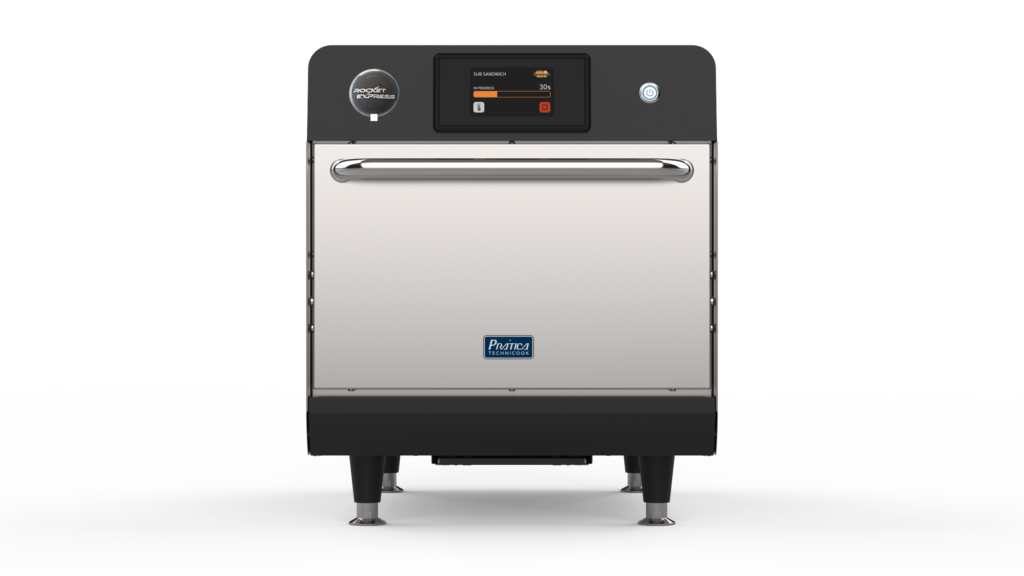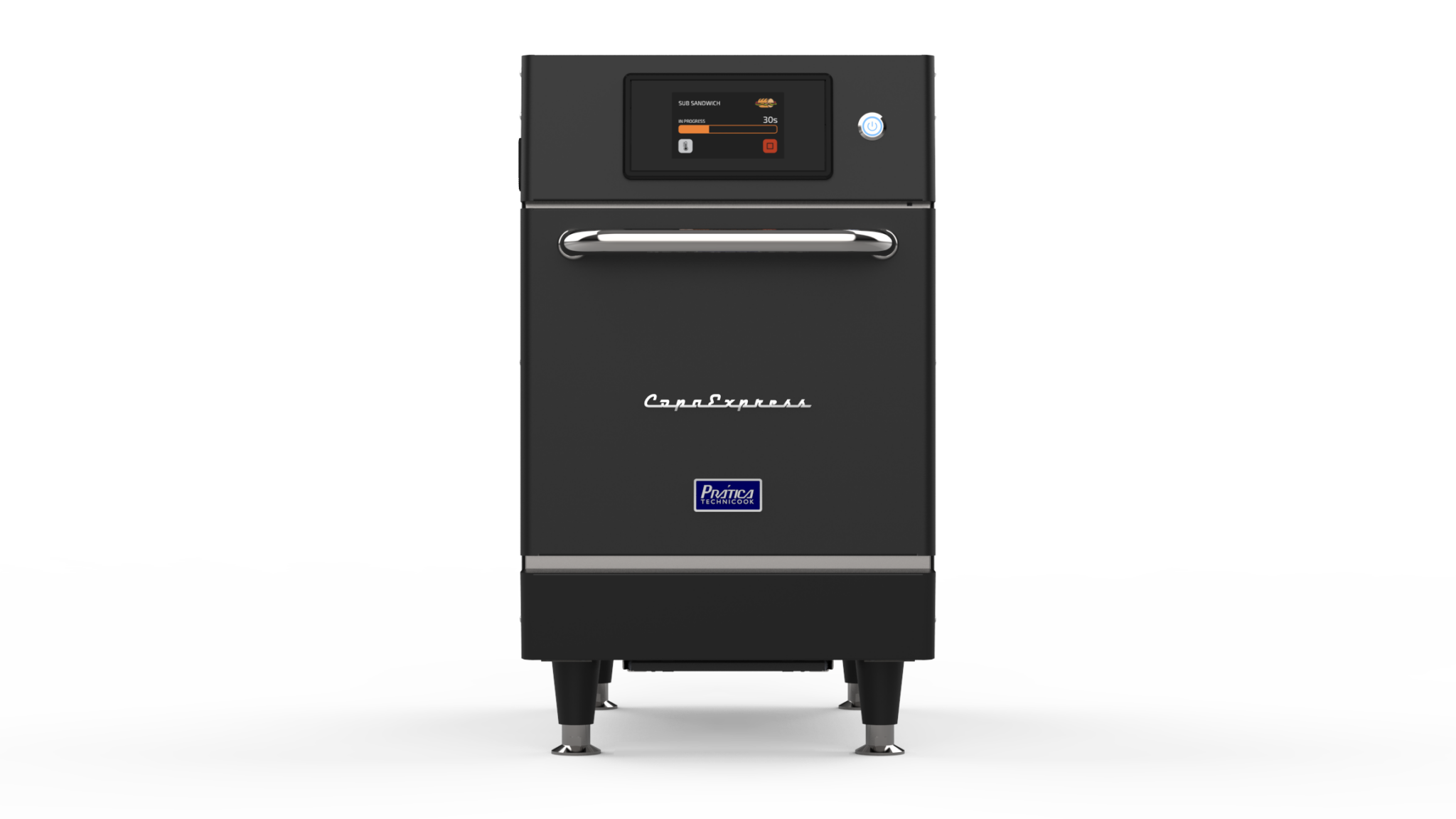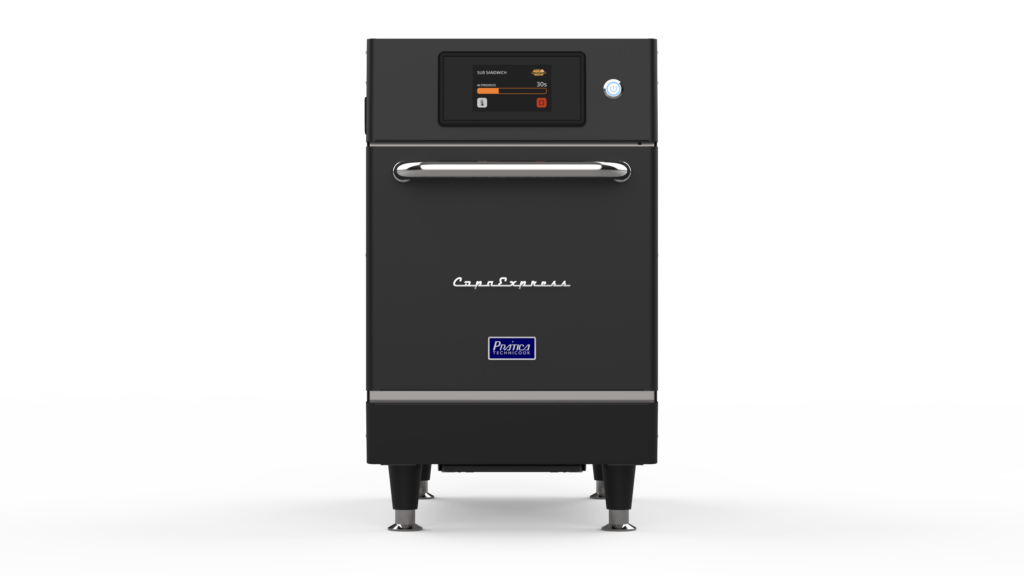 Perfect for: sub sandwiches, chicken wings, paninis, breakfast sandwiches, pizzas, and more.
Available in three different colors: burnt orange, black, and silver.
Sources of heat: microwave, impinged air (high-speed air blast), and the IR element.
COPA EXPRESS is ideal for small to medium businesses.
Learn more about COPA EXPRESS High-speed commercial oven here.
What is the best high-speed oven for my business?