Come visit us at Pizza Expo 2023, where we will be showcasing our high-speed ovens Forza STi and FIT Express. You can find us at booth number 1132, where we will be cooking up some delicious food items for you to try.
Our ovens have been designed to help businesses like yours improve their cooking efficiency and speed, without compromising on taste or quality. At our booth, you'll have the chance to speak with our experienced salespeople who can provide you with valuable insights and help you find the best oven for your business needs.
We are confident that our ovens will exceed your expectations, and we can't wait to show you what they can do. So, come and join us at the Pizza Expo and experience our high-speed ovens firsthand.
The Largest Pizza Show in the World offers you fresh content, competitions, and events each year! Now in its 39th year, the annual International Pizza Expo remains unchallenged as the industry's largest event. Thousands of pizzeria professionals convene in Las Vegas, Nevada each year for 3 days dedicated to all things pizza. Suppliers from across the globe, networking and educational sessions led by top industry professionals, and national competitions round out the event.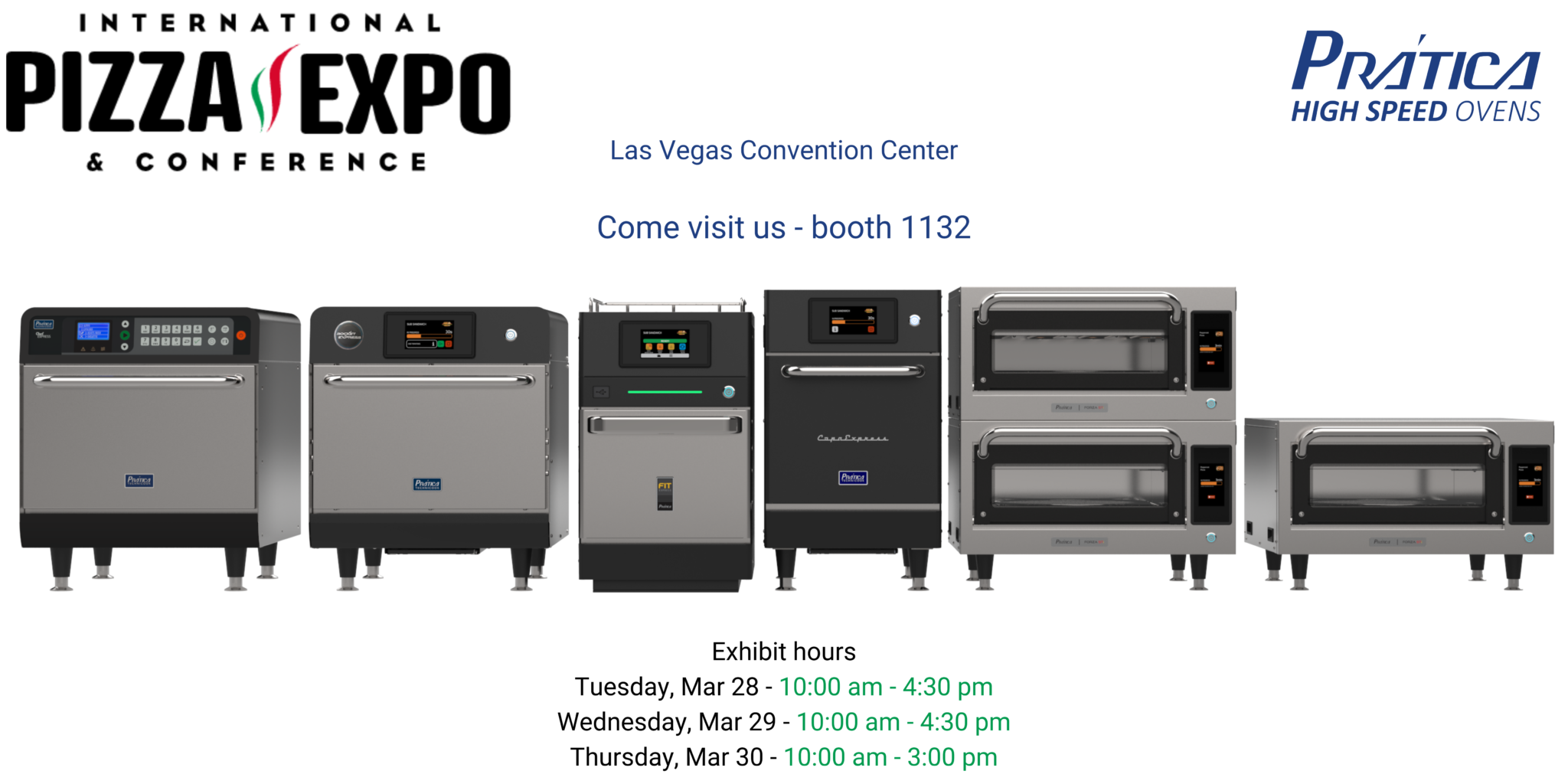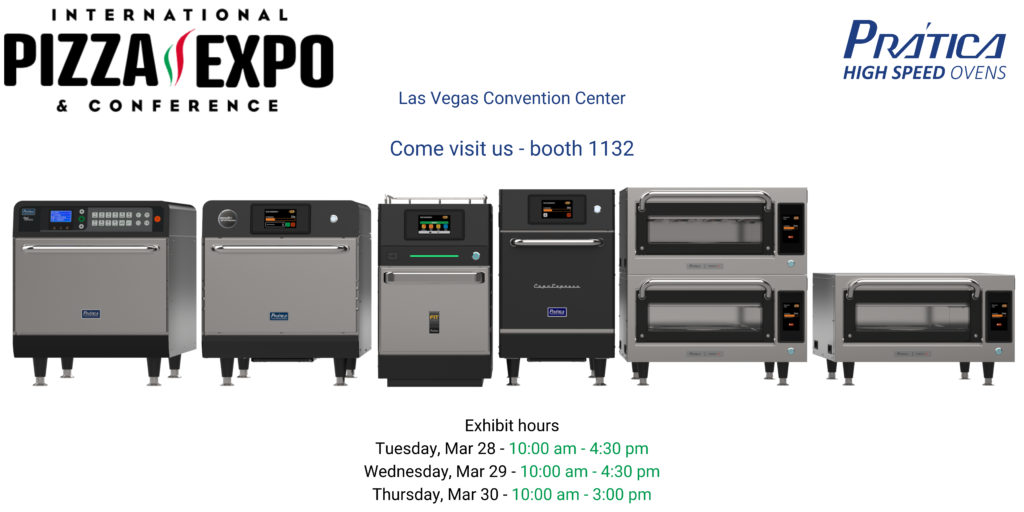 Our Corporate Chef Matthew McNutt will be cooking different recipes during the show to demonstrate our ovens' speed, versatility and quality.
Prática is a foodservice equipment manufacturer that makes high-speed ovens for pizzas, chicken wings, tortillas, empanadas, and more! With our ventless technology, there is no need for hoods. Our high-speed ovens are easy to use and maintain. Prática's ovens help you make quality food without waste. We provide all the necessary tools and accessories you'll need.

Prática's speed ovens are ultra-fast, high-performing ovens used for preparing, and finishing, fresh, refrigerated, or frozen foods. Each use results in excellent appearance, crunchiness, and taste.
With cutting-edge technology, the ovens work with multiple heat sources, such as impinged hot air, microwave, and direct radiation. They are equipped with a ventless system through an easily removable catalytic converter and require no extraction hood for operation, making them easy to clean and maintain.
With a friendly touchscreen interface, Prática speed ovens have easy operation and quick preparations, are ideal for service with agility and quality.
High-speed Ovens
FORZA STi is perfect for Pizzas, Flatbreads, Cookies, and more.
With no microwave, FORZA STi uses Impinged Air, and IR Element to prepare the food.
The options available are: single and double. The double is a stacked version of the single one, each chamber operates individually.
Learn more about the FORZA STi High-speed commercial oven here.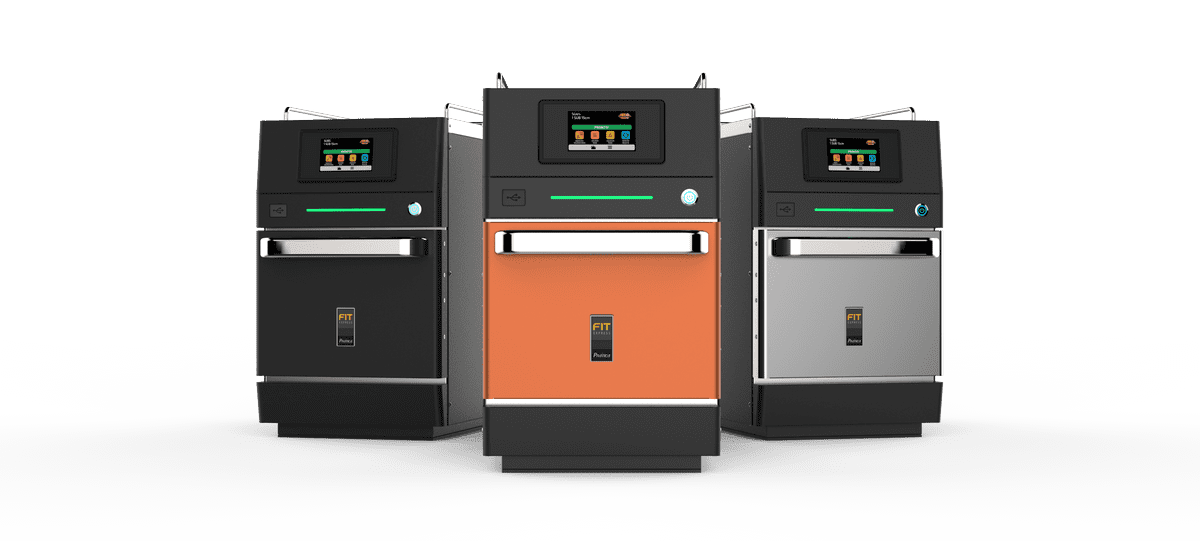 FIT EXPRESS has a smaller footprint, the FIT EXPRESS fits everywhere.
Available in three different colors: burnt orange, black, and silver.
It combines microwave, impinged air, and the IR element to make perfect sub sandwiches, chicken wings, paninis, breakfast sandwiches, and more.
The FIT EXPRESS is wireless and allows you to update the recipes and connect multiple ovens online.
Learn more about the FIT EXPRESS High-speed commercial oven here.
We look forward to seeing you there!
What is the best high-speed oven for my business?
Ideal for quick service sites, Prática's commercial high-speed ovens ensure you get the finish you want at ultra-fast speeds, without compromising taste or texture. Come visit us at Pizza Expo 2023, we will help you find out the best high-speed oven for your business!
Contact us and find the right commercial high-speed oven for your business!